Oxera is a Europe-wide economics consulting firm, hired for its expertise across a number of different practices. Oxera uses its site to promote its people, specialisms, and thought leadership.
Oxera has a distinct brand that we translated on to a new WordPress-based website. It has been very well received.
Headscape collaborated with Oxera in producing a client-led external website. As part of our strategy, we wanted to create a beautiful professional services website that represented our USPs, helping to showcase our brand via content whilst highlighting our expertise in an accessible, friendly manner. I valued the challenge Headscape provided us – bringing their experience to the fore to challenge thinking, where required, but always listening to what we were trying to achieve then translating those decisions into code and pixels. It was a fun and memorable experience with lots of dedication by their team in to helping us achieve our vision. This included developing new taxonomies to help broaden our reach, using thought leadership throughout the site more to engage our audience and integrating our site with marketing automation tool, ActiveCampaign.

Michael Graham, Head of Marketing and Business Development, Oxera
Representing Oxera's brand
Our experience in developing websites for professional services firms led us to Oxera.
Also, our focus on developing sites that truly reflect the character of the organisation we're working with – Oxera's brand is not 'standard corporate' – alongside making sites that really work for users, fitted closely with the Oxera team's requirements.
So how did we work with Oxera to transfer their brand online?
We facilitated a collaborative 'virtual card sorting' session that fed in to the development of wireframes. We started mobile-first developing a full set of mobile views of the main landing pages including navigation, and multi-language options.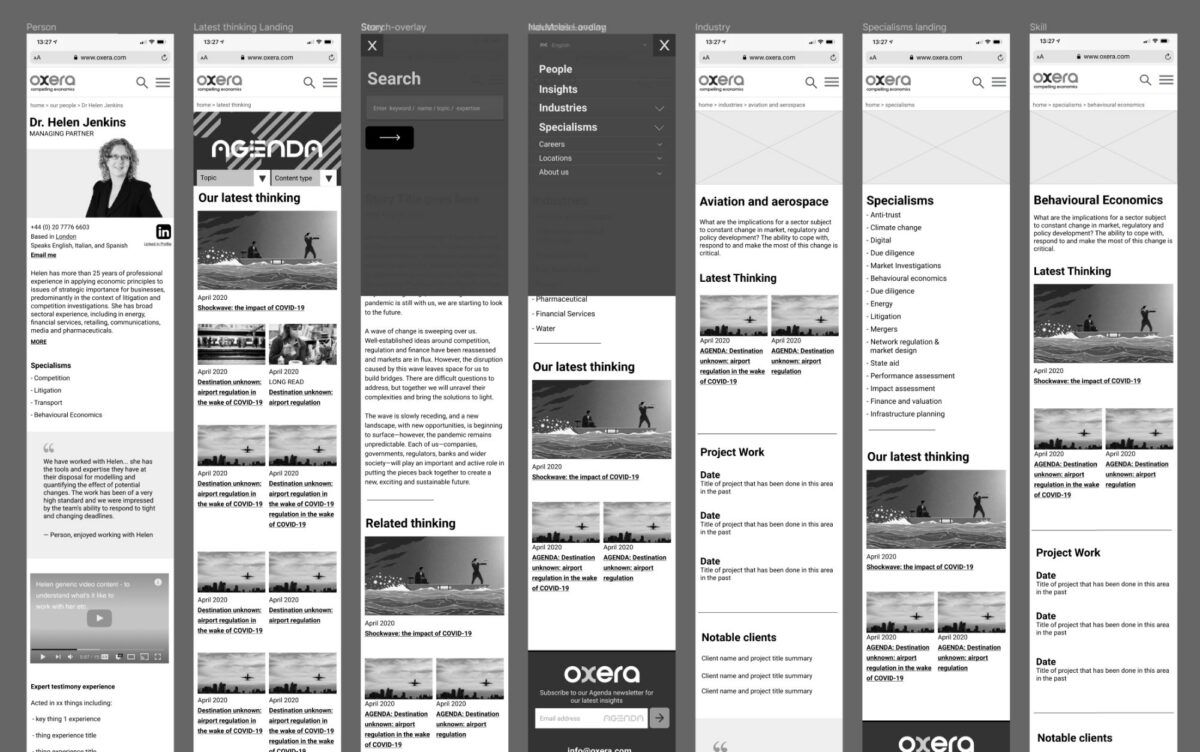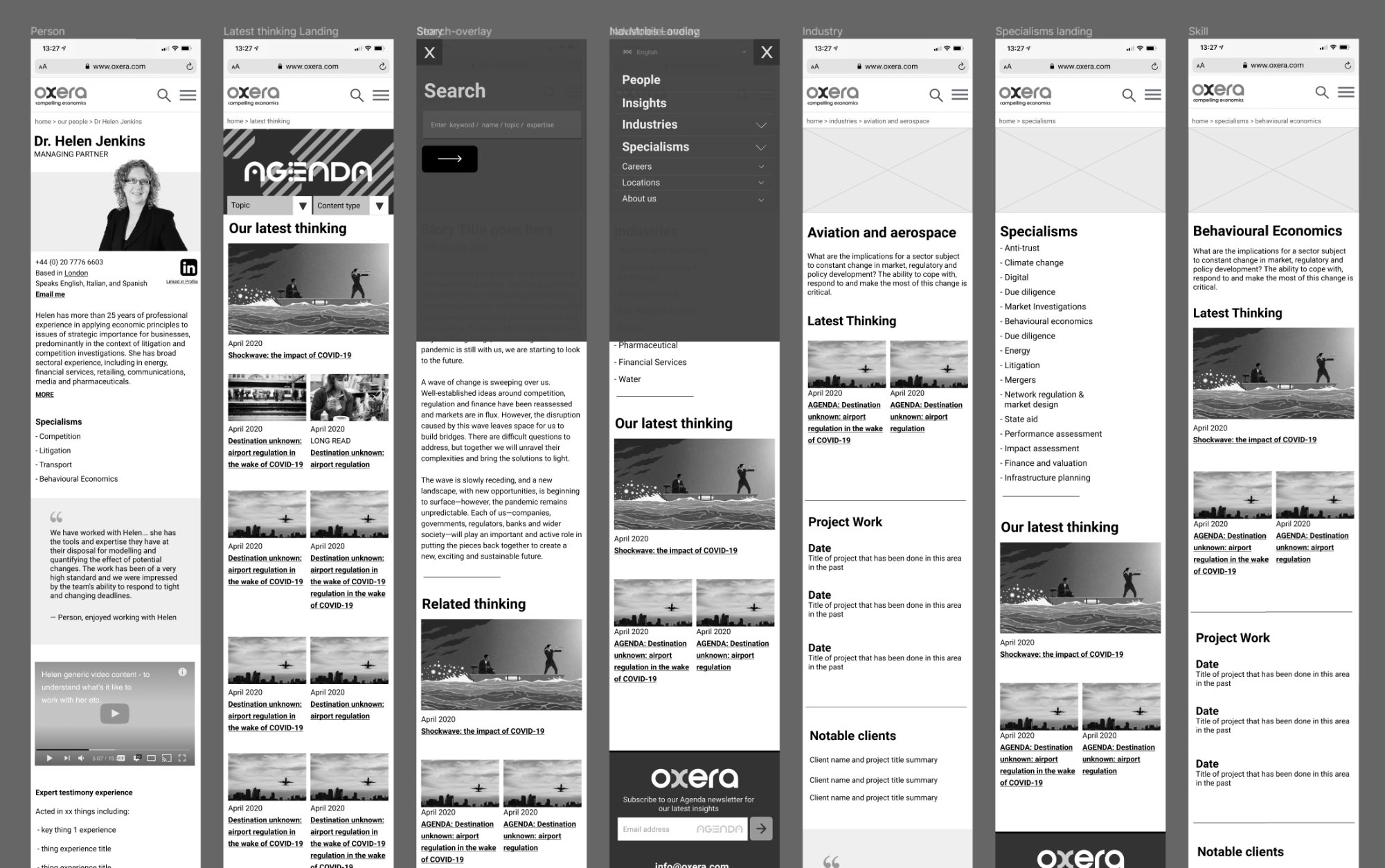 Desktop wireframes were then developed from the mobile views, with layout and visual ideas starting to help influence design direction. Colour was avoided initially as this had the potential to side-track thoughts on content layout and user experience.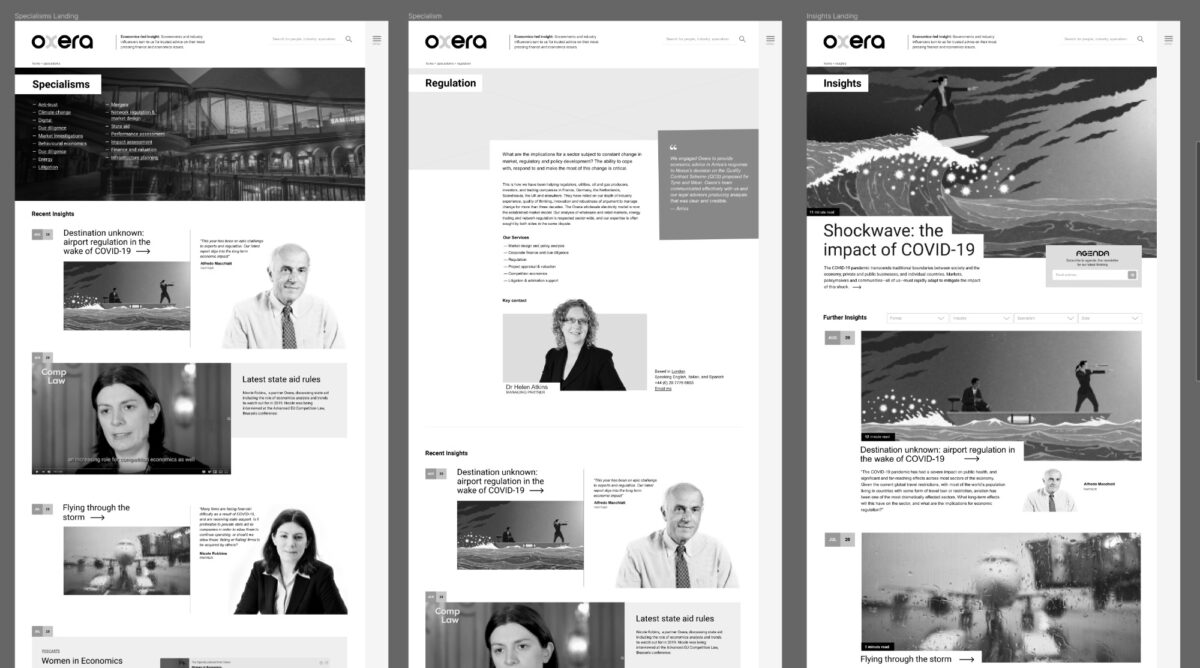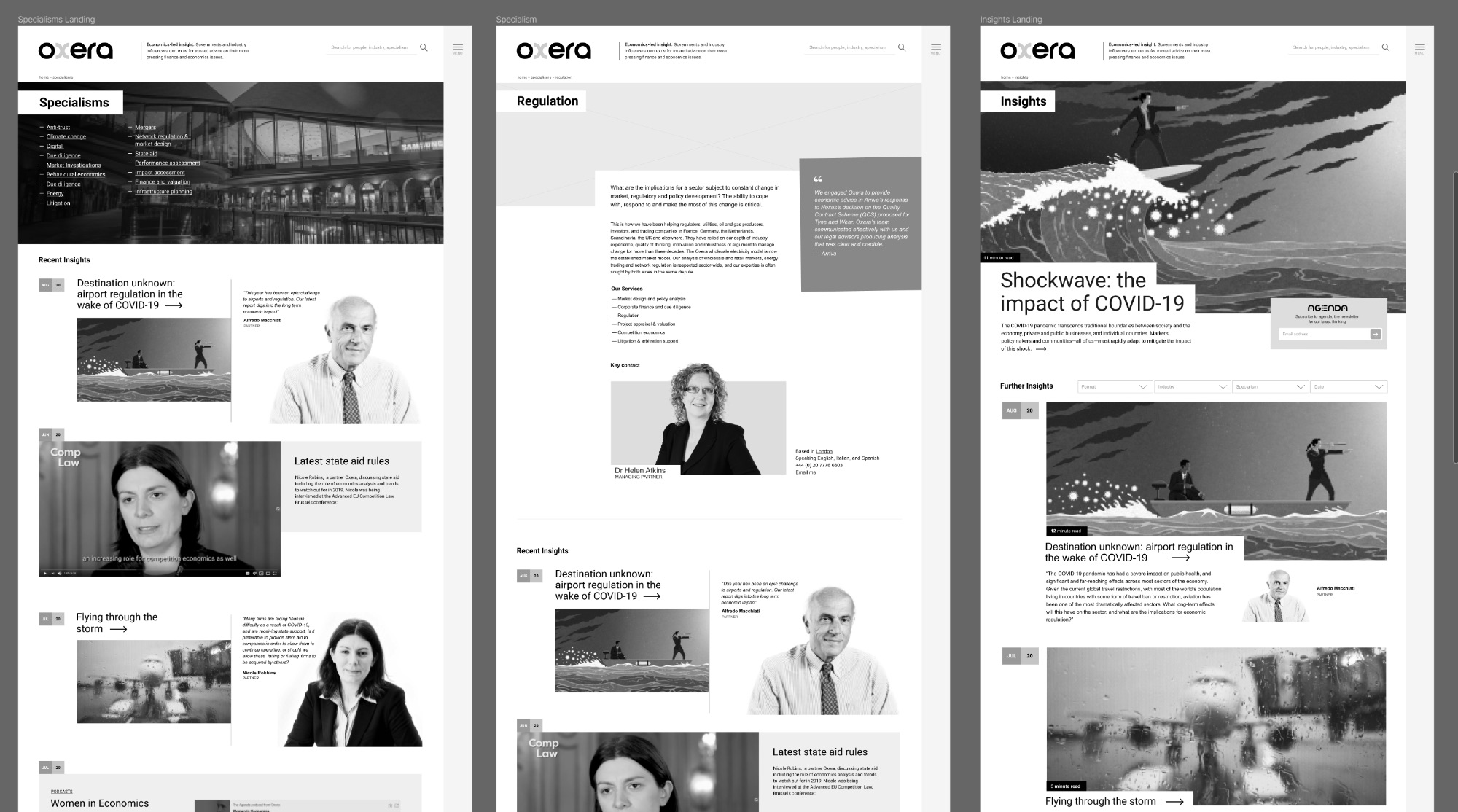 To help design direction, a series of visuals were developed for feedback from the Oxera team. These helped steer the overall look of the design with colour and visual treatments starting to be added. The results clearly communicated that a simpler approach was preferred without over complex use of the logo ident.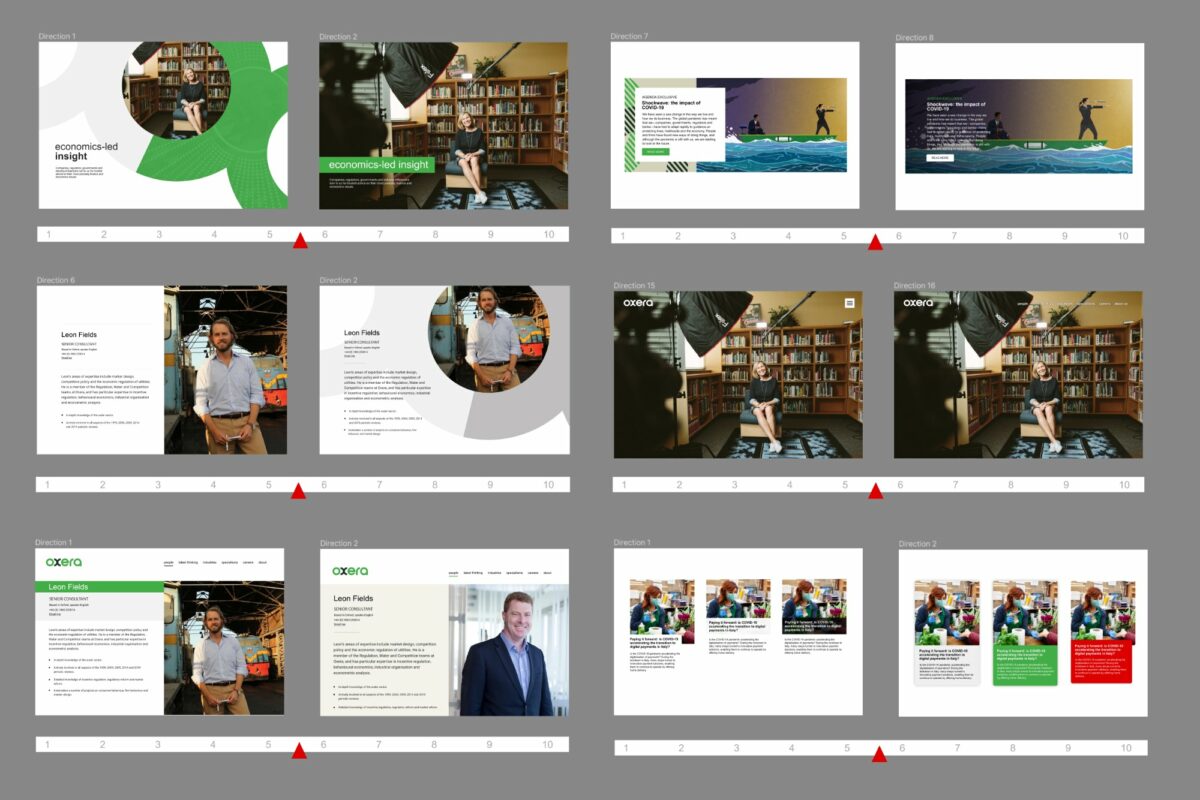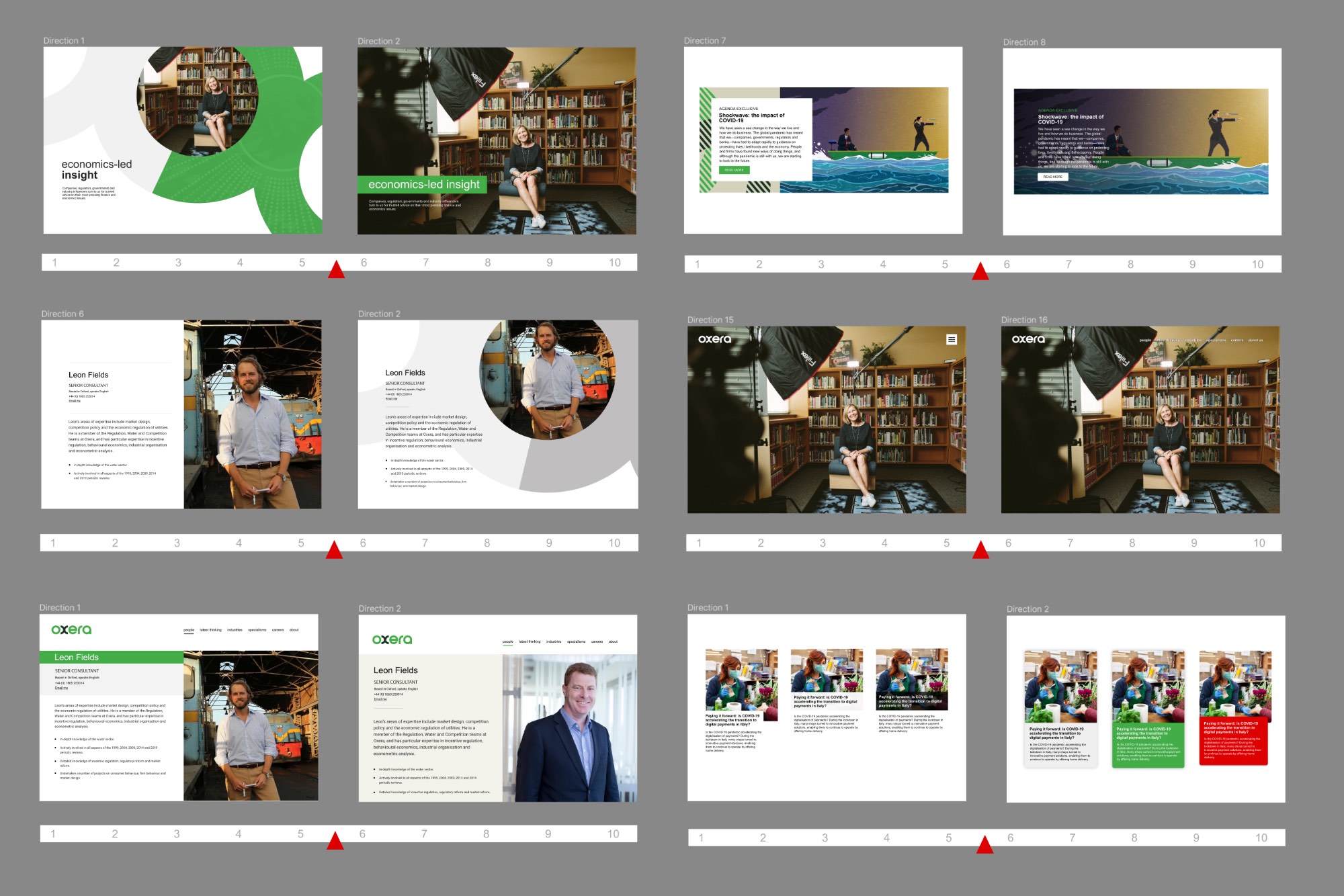 Page mockups combining the wireframes and design directions were then created. We used Oxera's wide colour palette to theme different sections, and ensured that each of the colours could work on screen in terms of accessibility and aesthetics.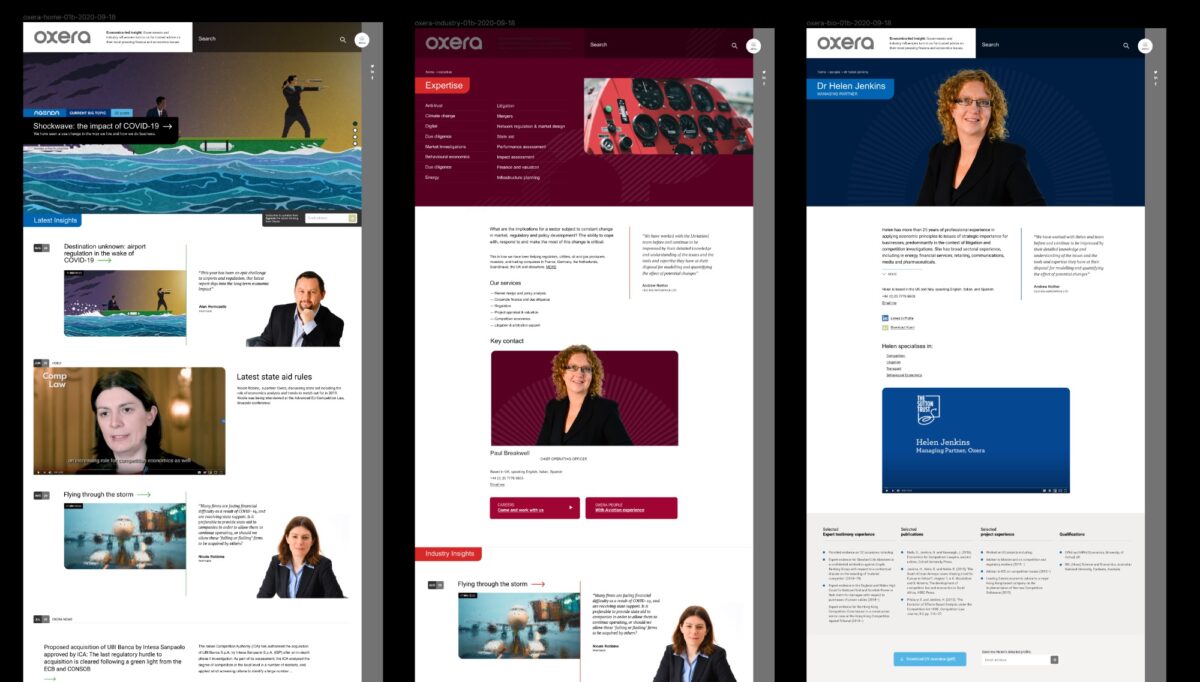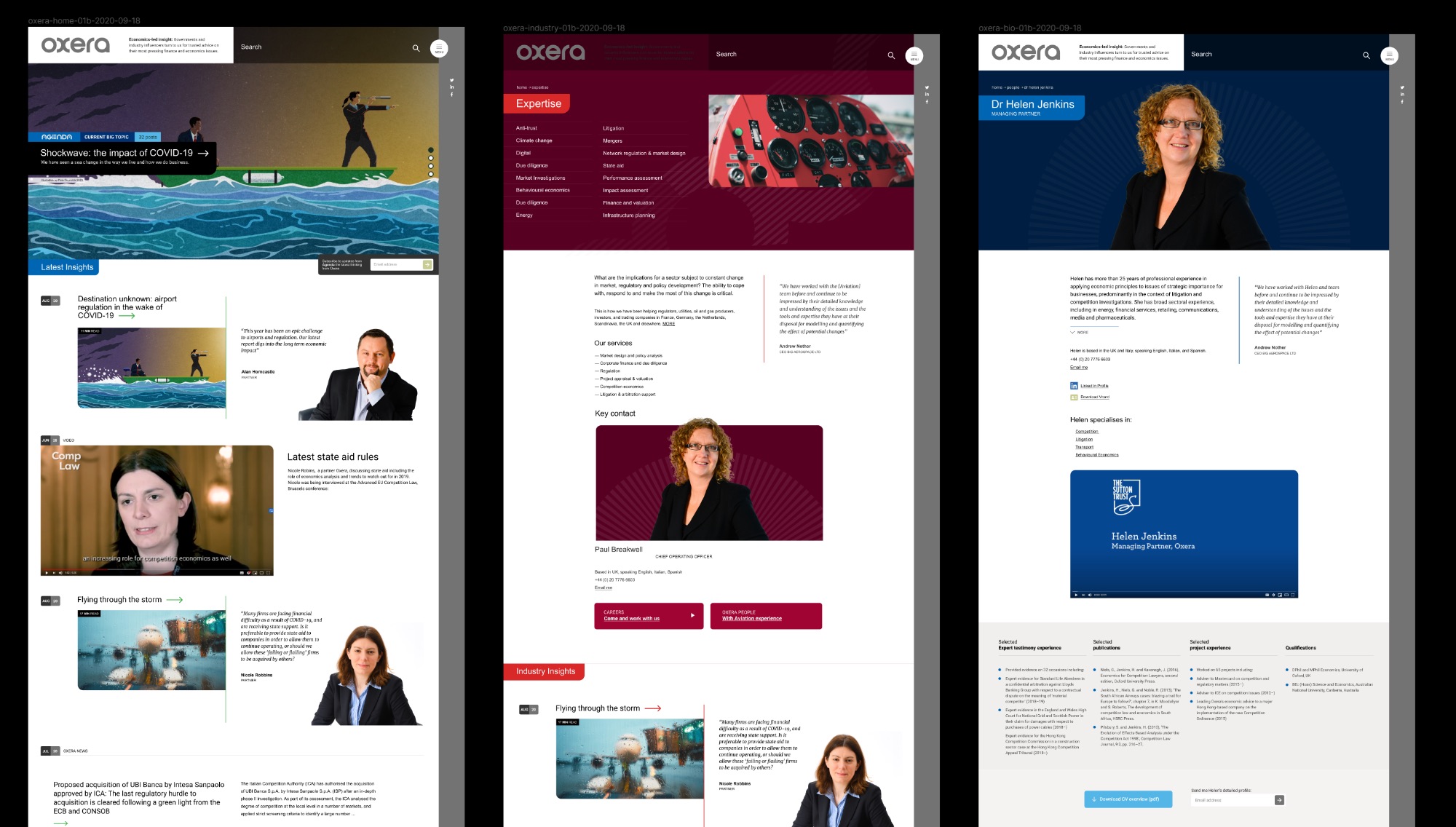 The final design makes bold use of the brand green palette and works hard to present Oxera's strengths as a thought leadership focused consultancy.
Attaching images of lead consultants to their work helps humanise and ensure Oxera feels highly approachable.