Headscape worked with UHS to develop a strategy for its website.
We surmised that UHS's audiences are very task orientated. I.e. people wouldn't find themselves on the website randomly checking things out, they would arrive with very specific tasks in mind. Therefore, any successful redesign of the site would present these 'top tasks' in a prioritised and simple to understand manner.
We carried out user research – including canvassing patients and visitors in person – to determine what the top tasks are and how they could then be translated into a new site design.
Tasks included:
Website usability review
Stakeholder interviews
Face-to-face patient and visitor survey
Online survey
Recommendations document
We developed a filterable spreadsheet that shows different task priorities for different audience groups (medical staff, inpatients, visitors, media etc). The following example shows top tasks for an amalgam of all the patient related groups. It tells us that we need to display links to Outpatient Appointments, Find my Doctor/Consultant and a link to Southampton General very clearly on any new designs.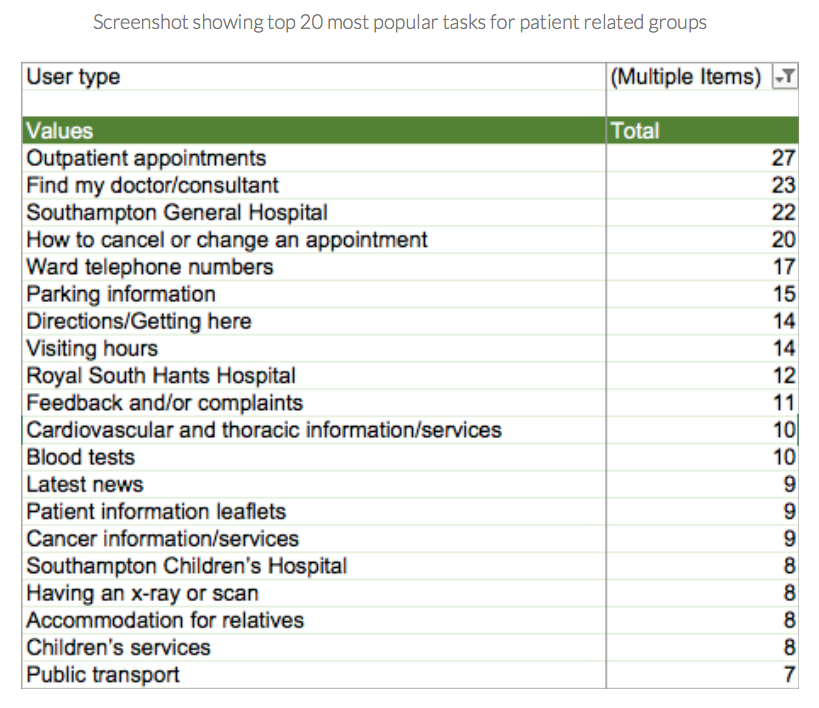 Part of the project scope focused on ensuring UHS has the staff to deliver on the proposed strategy. Headscape have also assisted with this recruitment process.